JOHNATHAN MCLEOD

President

Johnathan is the president of Creep Catchers Canada and makes it his mission each day to make sure a child does not go through the same things he did at the age of 15.

NO CHILD SHOULD PLAY IN THE SHADOWS

Shane Winnie

Vice President

Shane has been a part of Creep Catchers since January. Shane has a heart of gold and is here to help the children stay safe another day.

---

Lead Chatter

Katie is a brand new member and each day shows just how much she cares for others. She has had to face some tough times in life as do we all but it has made her strive to help others in life and show her awareness in her community

​WE ARE NOT BORN STRONG,WE BUILD IT AS WE GROW

SERENA queenbee

C.E.O/PROJECT OFFICER

Serena has been a member for 6 months now and is a mother her self. She has went through many of the dark roads you see on Creep Catchers and everyday is thankful for the life she lives. As a mother she loves to show other people what is going on around them. With a heart that big you can do anything.

​

AWARENESS IS ALMOST LIKE A 6TH SENSE
---
HAYLEY McGAGHEY​
CHATTER / CATCHER
Every Child should have the right to fly as free as a butterfly , I came across this great family and team wanting to make a change in my community . In the short time I have been here I feel like i have already made a change not only in myself but in my community.

​
​EVERYONE SHOULD BE FREE TO FLY
WINTER BEAN
OFFICIAL CC MASCOT / SERVICE DOG
Hi im Winter and I am a registerd Seevice Dog and also the official Mascot for Creep Catchers, I attened events and alao make the od apperance in videos. I provide many services but the main one i provide to people is Comfort. I may be small but i have a huge heart for helping people , Call me a Pug People Peraon.
BECAUSE EVERYONE NEEDS COMFORT
​
Powered by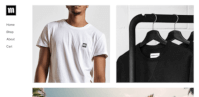 Create your own unique website with customizable templates.